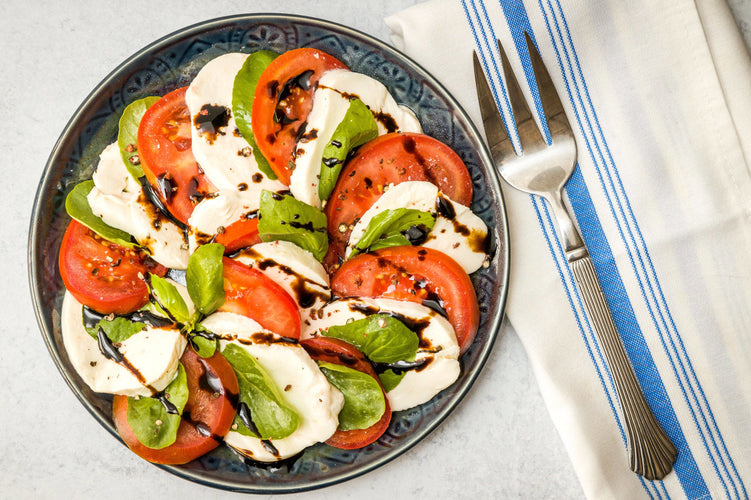 July 14, 2021 | By Ernesto M. Becerra
Shopping at your local grocery store can be overwhelming. While you grab the same oil brand you've purchased for years and a random jar of honey because they all taste very similar, authentic and traditional ingredients can truly elevate your cooking.
Just because we say "authentic and traditional" does not mean that you have to spend a pretty penny to get the secret recipe from an Italian family in a remote village. On the contrary, we've done the work to select the highest quality ingredients for you!
Today, I will walk you through some of the best selections of authentic balsamic vinegars. Whether you're looking to sprinkle it on your salad, saute a salmon filet with it, or add it to your sandwich for an additional layer of flavor, any of these options will enhance your next meal!
What is balsamic vinegar and do I really need it?
Balsamic vinegar is a reduction of unfermented grape juice cooked down and then aged. While traditional balsamic vinegar is thick enough to coat a spoon and has a sweet and sour flavor, most stores carry an imitation that is more acrid-tasting, meaning bitter and sometimes irritating.
Categories of Balsamic Vinegars
There are three categories of balsamic vinegars: Tradizionale, of Modena, and Condimento.
Tradizionale Balsamic Vinegar
Tradizionale (labeled DOP on bottles) is the most expensive of them all with higher viscosity and sweetness compared to its counterpart.
Balsamic Vinegar of Modena
Balsamic vinegar of Modena (aka IGP on labels) is the most common and produced in Modena, Italy, hence the name. Though not quite as rigorous as the criteria for tradizionale vinegars, this geographic designation ensures a certain, controlled standard of quality. The combination of wine vinegar and grape must yield a greater diversity of texture in IGP vinegars making it more versatile when added to dishes.
Condimento Balsamic Vinegar
Last but not least, the condimento grade vinegar that is not as tightly controlled as the other two counterparts. Since the origin of production isn't guaranteed, expect a wide range of quality. Think of it as spinning a roulette with a mixture of sweet, acidic, and neutral flavors and a variant of viscosity levels.
Depending on the combination of flavors you are looking to add to your meals, then you'll be able to leverage which balsamic vinegar works for you.
Best Types of Balsamic Vinegar
From budget friendly to those you'll only pull out to impress your guests, here are the balsamic vinegars we recommend and what you can pair them with!
Greek Kalamata Balsamic Cream by Papadimitriou's
This balsamic cream is prepared for you as a ready-to-go dressing or dipping sauce from Kalamata, Greece! With the same rich and sour-sweet flavor of the balsamic vinegar, the balsamic cream, also known as balsamic glaze, is more viscous than the balsamic vinegar making it light and smooth.
We recommend pairing the balsamic glaze with salads, sandwiches, cheeses, and fruits. My personal favorite is adding it to a salad. By combining 2 tablespoons of the balsamic cream, ¼ teaspoon of dried oregano, and a ¼ teaspoon of salt, it gives you the right amount of flavor taking a bland salad to the next level!
Tart ●●●○○ Sweet
Greek Balsamic Vinegar with Fig by Papadimitriou's
Made in Kalamata, Greece, this balsamic vinegar with fig is produced with sun dried grapes, dried fig extract, and no added sugars making it an all-natural dressing! While this balsamic vinegar sits on the lower spectrum in the condimento grade, it has a whole fruit flavor that is its primary selling point and a good contender as it is very budget friendly.
Sure to be a favorite at dinner parties, fig balsamic vinegar is outstanding drizzled on Caprese Salad or just on a spring mix. If you are looking to have it as a snack or an appetizer, try it on cantaloupe or a honeydew melon to have the perfect combination of flavors!
Tart ●●●○○ Sweet
Italian Balsamic Vinegar Glaze by Giuseppe Giusti
This natural balsamic vinegar glaze is a reduction of balsamic vinegar from Modena, Italy (PGI) with a classic flavorful syrup-like glaze. As we start making our way up the scale, the more versatile our sauces become. With a 60% balsamic vinegar of Modena, this specific glaze can be drizzled on everything: fruit, desserts, aged cheese, grilled meats, vegetables, and salads. Because of the red wine reduction, this balsamic vinegar is a little more acidic compared to its counterparts with a lingering aroma that will make you add it to your secret recipes. We love this balsamic glaze for tomatoes, sourdough bread, gelato, and anytime we want a "pop" of flavor.
Tart ●●○○○ Sweet
Italian Truffle Balsamic Vinegar Glaze by Giuseppe Giusti
The truffle balsamic vinegar glaze is an authentic crema di balsamico from Aceto Balsamico Di Modena (PGI) made in Modena, Italy. Created with the must of cooked sun dried grapes, aged wine vinegar, and a combination of truffles mark an unmistakable balance between sweet and acidic.
Because of its intense truffle flavor and slightly sweet taste, the truffle balsamic vinegar glaze goes excellent on fruit, desserts, aged cheese, eggs, steak, vegetables, and salads. If you really love a deep, rich flavor to accentuate your meal, put it on your avocado toast and thank me later!
Tart ●●●●○ Sweet
French Classic Balsamic Vinegar by Oliviers & Co.
The French Classic Balsamic Vinegar is a blend of cooked grape must, concentrated grape must and wine vinegar giving it a fluid texture and a brown color. While all original ingredients are from Modena, Italy, the French company of Oliviers & Co. has a strong reputation of maintaining the highest quality natural ingredients without any added colorings or caramel.
Aged and slowly matured in precious wood barrels, each balsamic vinegar has been selected for the intensity of its aromas, exceptional flavour, and velvety texture. This balsamic vinegar is a great balance between quality and cost. Because of its thickness and sweetness, you can use it on salads, risotto, and desserts.
Tart ●●●○○ Sweet
Italian Silver Medal "Il Profumato" Champagnotta Balsamic Vinegar by Giuseppe Giusti
With at least six years of preservation in French oak barrels, this unique balsamic vinegar is a strong contender to all its counterparts due to its smoothness and flavor. This specific balsamic vinegar is slightly more acidic making it perfect for fresh appetizers or to be cooked with a hot meal.
Our personal preferences are seafood, fish, mozzarella, fried vegetables, cheese, and fruits as the acidic taste soaks into the food making it a perfect combination of flavors. Try combining unsalted butter with balsamic vinegar and brushing it on your next salmon!
Tart ●●○○○ Sweet
French Premium Balsamic Vinegar by Oliviers & Co.
If you're looking to revolutionize your eating experience, look no further! Oliviers' Premium Balsamic Vinegar has been the crowd's favorite year after year marking it as the #1 best-seller.
It is sweet, thick, tasty with a great balance of flavors. The Premium Balsamic Vinegar is made according to the purest of traditions: a slow reduction of Trebbiano grapes cooked on low heat to provide its dark color and honey texture, followed by a long-aging process in rare wooden barrels (of oak, juniper, cherry, blackberry and chestnut trees) that will give it its sweet, thick, and tasty flavors. Above it all, the 4-leaf grade system cements it as the highest grade of quality it can receive. Just remember to only use a spoonful as a little goes a long way!
Tart ●●●●○ Sweet
Italian 5 Gold Medals "Banda Rossa" Cube with Box Balsamic Vinegar by Giuseppe Giusti
Released only after a 20-year extensive aging process, the award-winning balsamic vinegar compacts a dark brown color with high density and an intense aroma.
The flavor is deliciously sweet with fruity notes in a sweet and sour equilibrium typical of only absolute top-quality Italian balsamic vinegar.  Notes of plum, black cherries and sweet spices, infused with the fragrances of the ancient woods in which it was left to age, persist long after tasting. Finish off salmon steaks, drizzle it on salads and fruits, or add it in your cocktails for a true premium experience. Due to its strenuous aging process, this vinegar is only made in limited quantities once a year, so grab yours before it's gone!
Tart ●●●●○ Sweet
Whether you're looking to have fun exploring the grocery store isles or purchase an authentic international balsamic vinegar, have fun experimenting with various recipes or take a spoonful and experience its true flavor! You'll be sure to find a new favorite food and balsamico pairing.
Best of luck and buon appetito!