posted by TerraMar Imports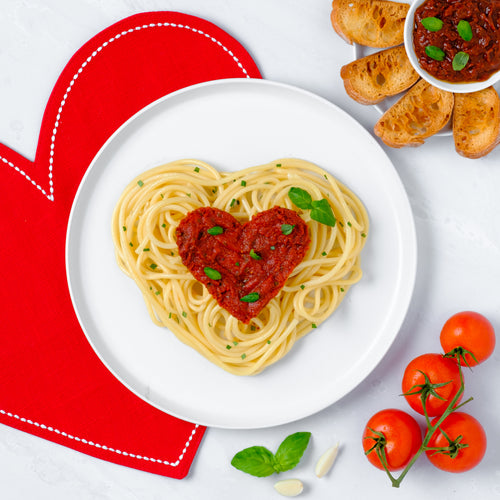 By: Hunter Steffek
Introduction
Our curated Valentine's gifts will show off your love in an imaginative way!  This Valentine's themed Italian heart shaped pasta is infused with the hearty flavors of tomato and wheat germ from the Italian countryside. Couple this with the gourmet Italian semi-dried cherry tomatoes to make a perfect garnish and sauce for the pasta. To garnish there will be a full-flavored, sharp, non gmo parmigiano reggiano . Finishing the dish off with the rosemary flavored extra virgin olive oil and Tarallini crackers on the side and your Valentine's dinner will surely feel like a night in Italy! 
There are plenty of other Valentine's gifts and bundles to choose from. Check out the assorted sweets, teas, and bundles for the holiday and your special someone! 
What you will need from TerraMar Imports
Recipe 
For this recipe, all you will need in addition are ingredients around your house to create a creamy sun-dried tomato pasta. TerraMar Imports has many authentic Italian herbs, spices, and gourmet ingredients to help make sure your home cooked meals replicate the flavor, aromas, and feel of Italy. 
1 cup (250ml) Milk (or half and half), 

1 cup (250ml) Chicken or vegetable stock

½ teaspoon Red Pepper 

½ teaspoon Italian seasoning

½ teaspoon Paprika

Salt to your liking

3 Garlic Cloves, minced

1 small onion, minced

Basil
Pasta
Cook Heart Shaped Pasta –

Lightly salt water and bring it to a boil. Cook the heart shaped pasta once boiling until al dente 9-10 minutes. (Package Instructions) 

Drain –

Drain your heart shaped pasta (reserve a bit of cooking water). Note

–

draining and cooking the pasta should happen around the time your cherry tomatoes are at the point you want them.

 
Creamy Cherry Tomato Sauce 
Sauté minced garlic, onion, and the jar of semi-dried cherry tomatoes in a large skillet or pan with 2 tablespoons of the Rosemary flavored extra virgin olive oil. 

Sauté until fragrant, season with salt, paprika, Italian seasoning, crushed red pepper, and cook for another few minutes. 

Add the milk (or half and half) and chicken stock (or vegetable stock) to the skillet and bring to a simmer. Add a bit of pasta water to thin the sauce if too thick.

Remove sauce from heat and stir in cooked heart shaped pasta and mix well. Adjust seasoning to your liking and sprinkle the parmigiano reggiano and freshly chopped basil. 
Serve Immediately and enjoy with a side of crisp tasty Tarallini. This creamy Italian style pasta is bound to impress your Valentine and show how much you truly care about them!
Happy Valentine's Day from TerraMar Imports!