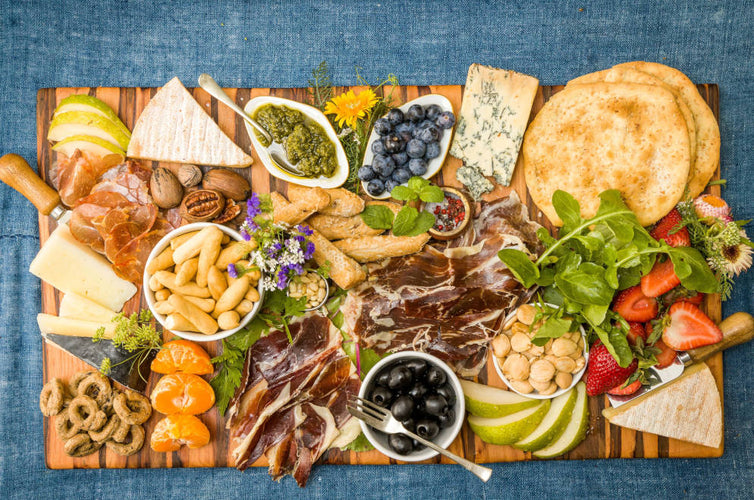 July 8, 2021 | By Ernesto M. Becerra
Summer is at its full force, so why not enjoy a delicious charcuterie board outdoors with friends and family?
Whether you're looking to pair it as an appetizer before the entree or want a snack with your favorite bottle of chardonnay, a perfect blend of cured meat, cheese, bread, fruit, and jam is ideal to endure this heat wave outdoors.
What is charcuterie?
The word "charcuterie" originated in France, and it translates to "pork-butcher shop." Charcuterie is a branch of cooking involving prepared meats, such as ham, sausage, bacon, confit, or other pork products.
While originating with the idea of having an assortment of meats, charcuterie boards have become very popular outside of France, and the term has evolved to include a variety of foods besides meat.
Because of the many combinations that charcuterie boards can become, we asked our staff to share their tasty boards with us!
My favorite charcuterie board includes a mix of sweet and savory crackers, fruits and of course, lots of jamon Ibérico!
My go-to ingredients have a lot of variation. For starters, I always need baked brie cheese with pecans and French honey, preferably Acacia honey, and trust me - baking the cheese for 20 minutes will take it to the next level!
To mix in the cold and hot, I also add parmigiano-reggiano cheese slices, merlot cheese for deeper flavors, and cheddar cheese cubes for a sharper contrast. For the last of my cheeses, I like to have a small whole goat cheese and cover it with L'Epicurien's Wild Blueberry Preserve for a sweet layer followed by a savory cheese tang.
For my meats, I prefer to stick to my top 3: genoa salami, soppressata, and jamon Ibérico! While they're all good, the Jamon Ibérico is by far my favorite as it has a nutty yet sweet smoky flavor to it.
Also, my party trick is to turn my thin sliced meat into meat roses by layering them over each other on a glass rim, then once you turn it, et voilà! A meat rose!
For additional dipping, I like to pair my board with an artichoke-parmesan dip accompanied by Bonta Lucanecrackers and pita chips.
Last but not least, fruits and nuts are sprinkled across the board: because I like sweet and salty, I enjoy a combination of Spanish Marcona almonds, pistachios, Bella di Cerignola Olives, grapes, sliced apples, and prunes!
Although most of the time I prefer to pair my charcuterie boards with a great French Merlot to balance all the sweetness I add to my board, I HIGHLY recommend taking the time to prepare a Spanish sangria with mango, strawberry, pineapple, apples, and cantaloupe as it is ideal for summer.
Growing from the cheese and crackers my mom gave me as a child, to squirtable cheese as a teenager, and now reaching adulthood and enjoying the true flavors of a charcuterie board, it's fair to say my food palate has changed extraordinarily. My favorite inclusion on a charcuterie board is a niceartichoke bruschettato spread on crackers with a bit of parmigiano-reggiano cheese to complement it.
Additionally, a delicious Fig Preserve to accompany a goat gouda cheese is an absolute necessity to feel the summer vibes of Ancient Greece. This delicacy can serve as a sweet snack or a palate cleanser in between sips of wine.
Finally, at the heart of every charcuterie board are the dry meats. Although I cannot make an elegant meat rose like Adriana, I do enjoy the succulent nutty flavor of an Acorn Fed Jamon Iberico accompanied by a smoked salami.
I am still new to making charcuterie boards, so I would love to hear what you guys think of mine and what else you like to put on yours!
Just get a lunchable and put it on a wooden plate. Don't forget to pour the Caprisun in a wine glass. Ta-Da! Kidding!
Apparently that's not enough to make a charcuterie board, so I will dive deeper into what it takes to make the perfect board as an adult.
To start with the basics we need cheese, ham, crackers, and fruits.
For the cheeses, I think mozzarella is an absolute must. It pairs perfectly with a ritz cracker.
However, you need a not as creamy cheese option: colby jack (for the taste), swiss (for the aesthetic), and pepperjack (for the spice lovers).
Now onto ham. For this I think some salami, pepperoni, and thinly sliced cuts of honey ham are delicious, but if you're in the mood for an uncooked pig, add some prosciutto or our Jamon Bellota.
Next up: carbs. Cut up some slices of Galician Bread, spread out some Ritz crackers and some Pita. Lay out your preferred fruits, grapes are a must.
A variety of berries are fun. And for the perfect finishing touch, some homemade Greek hummus as it provides a perfect balance for the mixture of flavors.
Allow me to share our recipe with you:
🍴1 cup of drained chickpeas
🍴2 tb. lemon juice
🍴2 tb. olive oil
🍴salt and pepper to taste
🍴3 garlic cloves
🍴1 tb. ✨Tahini✨
Blend it all together till smooth, and enjoy 😉
Pro tip: add a couple ice cubes to make it extra smooth
Bon appetit, you now have unlocked the secret to having the perfect charcuterie board aka mine!
img src="https://cdn.shopify.com/s/files/1/0561/9367/9528/files/Santiago_Bitmoji_240x240.jpg?v=1625779110" width="" height="" alt="" class="shogun-image " />
One of my favorite things to do with my family and friends is sitting around the living room drinking wine and eating a charcuterie board. I believe food is meant to be shared with others and especially when they are your loved ones.
I mainly enjoy the eating part of charcuterie boards, but my wife is like an artist when putting them together, so I usually leave that to her. If I was able to build my ultimate board, I would do mainly meats and cheeses.
As far as meats go, there is nothing better than an Italian prosciutto! Added to the mixture, I tend to have Spanish chorizo, a peppered salami, and savory pepperoni slices.
While I'm not as skilled as Adriana at making meat roses, I do like to make a cracker sandwich with a meat and cheese combo. My go-to cheeses would be a parmesan, a sharp white cheddar, and a brie.
To satisfy my sweet tooth, I would add some mixed berry French butter cookies, which are to die for. Some people like crackers, but I would much rather use some freshly toasted bread and accompany it with a delicious spicy pepper pesto.
Last but not least, I prefer a bold red wine like a merlot to have a refreshing flavor without overwhelming the palate.
Alright so don't hate me, but I am not the biggest fan of cheese. If it's not on a pizza or burger, I'm not interested in it.
However, I do love me some meats, fruits, veggies, and crackers, so here is the breakdown of my diverse, cheese-free charcuterie.
I like almost any type of cracker, but toasted pita chips will always be my favorite. I feel like they give you a full, toasted flavor that no other cracker can deliver.
For my money, the best centerpiece for a charcuterie is some homemade hummus. It's really easy to make with garbanzo beans, olive oil, and freshly minced garlic, and it adds a bit of Mediterranean flavor to anything you wish to dip in it, from pita chips to any type of veggie you want.
My favorite veggies for eating and dipping will always be the classics: carrots, cucumbers, bell peppers, celery, and broccoli.
For something sweeter, I always recommend fresh grapes, raspberries, blueberries, blackberries, strawberries, dark cherries, plums, dates, and figs.
I also love balancing out the sweet with some salty. I love regular pickles, but in my opinion, pickled okra can't be beat as a salty snack.
I love meat, so in my mind, no Charcuterie is complete without high-quality ham or prosciutto. Slices of Cinco Jotas Ibérico Pork Shoulder gives your charcuterie some amazing texture and flavor. This can be nicely complimented with a choice of salty salami, oven roasted cajun turkey, London broil roast beef, and some spicy pepperoni.
My favorite wine is a nice, full-bodied cabernet sauvignon, but I am also a fan of merlots, pinot noir, and almost any dry white.
Share your favorite charcuterie board with us!