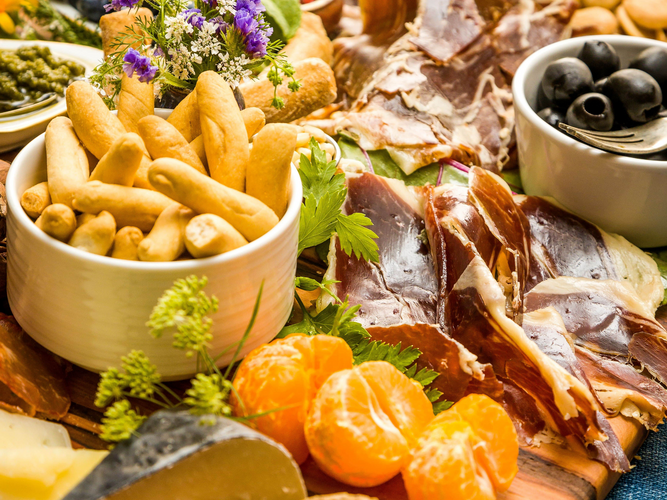 March 22, 2022 | By Hunter Steffek
Charcuterie boards have been a staple of European dining and parties for many years, but the trend of seeing these all-over social media from across the world is rapidly growing. TerraMar Imports will guide first timers on how to create a perfect Spring charcuterie board and also showcase ingredients for charcuterie masters to seriously upgrade upon their previous boards.
An amazing quality of charcuterie boards is that they are adaptable. They are an appetizer or party dish that can fit any of your needs, wants, diet restrictions or limitations. On top of this quality, they are a dynamic dish that is influenced culturally and environmentally from seasons and areas where different produce or food products can be found.
Today our goal is to teach you about the core foundation of a charcuterie board and also recommend some amazing products that can be used in building one yourself for the first time. If you consider yourself a charcuterie connoisseur or only know the basics of creating one, this blog will have many amazing product recommendations pertaining to our Spring products like jellies and jams that will make your next board your best.
Foundation of a Great Charcuterie Board: Cheeses - Part 1
There are 4 core pillars to a perfect charcuterie board. The first being choosing the right cheeses. The main principle to keep in mind when choosing what cheeses will be right for a charcuterie is to offer a variety of styles. This means finding a combination of firm, soft, creamy, or crumbly cheeses that have different flavor profiles like sharp, aged, or buttery.
Another thing to keep in mind is having a cheese that everyone is comfortable with as well, whether it be a cheddar, gouda, or parmesan.
Before plating make sure to cut and plate your cheeses in a manner that is sliced and easy to eat, or something that can be cut or broken into.
TerraMar Imports has a unique selection of gourmet cheeses that are authentically sourced from all over the world. Here are a few options to try
El Trigal - Queso Manchego
For a softer and familiar tasting cheese TerraMar Imports recommends the Queso Manchego DOP Mini. This semi-soft cheese will melt in your mouth with its buttery flavor. This well-rounded cheese is made from sheep's milk locally in Spain, then aged for 3 months.
Fulvi - Pecorino Romano
For a nice hard cheese, TerraMar Imports recommends the Pecorino Romano by Fulvi. This aromatic sharp Pecorino Romano has a pronounced saltiness due to the dry salting the cheese receives in production. This Italian cheese will really balance the texture of the board.
For an overall arrangement of cheeses and options to choose from when creating your board, TerraMar Imports has put together a Cheese Lovers Bundle, that takes ten, 6 oz gourmet cheeses from the United States, so you can be fully prepared for any guest's desired cheese.
In the bundle you will find: Smoked Cheddar, Smoked Provolone, Smoked Gouda, Smoked Mozzarella, Mango Habanero Gouda, Honey Sriracha Gouda, Jalapeño Habanero Chipotle Gouda, Havarti Cheese, Bourbon Gouda, and Scorpion Pepper Gouda.
The Meat - Part 2
The culinary encyclopedia defines charcuterie as, "Products based on pork meat…" but numerous charcuteries may lack meat, or choose other cured meats or items like pâté.
TerraMar Imports has a wide selection of gourmet meats that are cured, uncured, and in many forms and flavor profiles! Acorn Fed Iberico Pork Shoulder by Cinco Jotas is an amazing choice for a celebration or event with family or friends this Spring. This delicacy is one of Spain's most treasured culinary and farming practices. The beautiful marbling and sweet nutty fat makes this gourmet meat truly special.
To add a spicy kick to the board, why not try the Chorizo Cantimpalo. This fine chorizo is a mixture of pork and beef that is dry cured in the region of Castilla y Leon. There are many more fine meats to find, so check them out in our Cured Meats Selection.
Cracker, Biscuits, & Bread - Part 3
Now it is time to choose a vessel for the selection of gourmet meats and cheeses.
Laurieri
Laurieri offers a variety of amazing crisp, buttery, flavorful crackers that any board could utilize. They have many amazing options but some of our favorites are the Garlic Bruschette, Rosemary Scrocchi, or a traditional Sea Salt Scrocchi.
TerraMar Imports has a wide selection of breadsticks, other crackers, biscuits, and crisps. The Olive Oil Picos by Matiz Andaluz are perfect for dipping into any soft cheese, jam, or sauce that may be on your board. This traditional Spanish cracker is found widely throughout Spain in tapas bars around the country.
Accompanying Snacks, Sauces, Jams, & Anything Else - Part 4
Finally, to finish your board, add a rich pâté, or a savory sweet jam to throw on top of your cheese and crackers. TerraMar Imports has a large pâté selection, olives, gourmet nuts, and an amazing selection of jams that range in flavors from savory, sweet, and sour.
To really highlight Spring and its flavors, we want to recommend our Albert Menes Rose Petal Jelly This floral jelly highlights the aromas of spring and will offer a great contrast to the cheeses of your charcuterie board.
>
To continue with this Spring season and floral idea, try adding our Pure Blossom Honey by Monastiri. This will surely be another decadent addition to the board and help balance the salty meats and rich cheeses. Accompany these sweet spring flavors with our Artichoke Truffle Pâté by Gran Cucina and you will surely wow your guests with this Spring charcuterie board.
Make sure to check out our Charcuterie selection on the website to find utensils and other tools to make your charcuterie experience seamless and professional! We also recommend checking out our amazing bundles and boxes for charcuterie if you are interested in other variations of this classic appetizer. Here we have Spanish, French, and Italian inspired Charcuterie boxes or bundles that will fulfill your charcuterie needs.
Good luck with preparing your future Charcuterie Boards and enjoy your Spring!