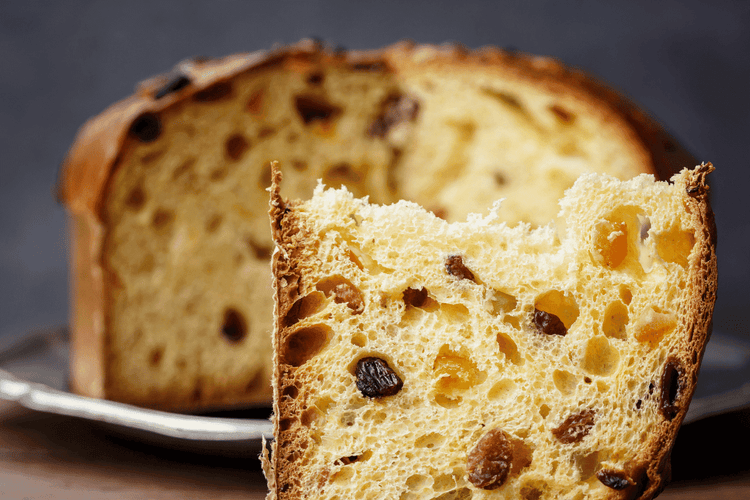 August 14, 2021 | By Ernesto M. Becerra
If you have not tried the world-famous panettone, you are missing out on a delicious, culturally-rich baked good!
Now, if you have never heard such a word, let me tell you all about it. Panettone is a sweet bread typically consumed by families during the holiday season ranging from Christmas up to New Years. With a wide array of flavors found today, where did the original panettone come from? Learn all about it and ways to get it to make it part of your next holiday spread!
The Culinary Origins of Panettone
Panettone (​​pah-neht-toh-neh) can be traced as far back as the 1470s where a manuscript written by Giorgio Valagussa, preceptor of the House of Sforza, mentions a Ceremony of the Log.
In this particular celebration held on the evening of December 24th, the dialogue between the family tells of the "huge log that was placed in the fireplace". This log was supposed to burn until Epiphany on January 6. After sprinkling it with wine and setting it ablaze, each duke of the three families cut "three great loaves of wheat bread" symbolizing The Holy Trinity.
Alas, the remainder was shared amongst the guests. Despite it only being wheat, this ingredient was highly appraised during those times as it was scarce and rare to come around.
Nowadays, in the 21st century, panettones are still upheld as a unique product despite having abundant resources! Not only are the panettones made once a year in small quantities, but the panettone is beginning to become a worldly product.
The rising popularity of panettone has spread throughout Italy, Spain, Peru, Brazil, and many more countries adding their own twist to the Italian tradition.
TerraMar Imports has partnered with Pancracio and Melegatti to provide you with an abundance of options to enjoy your own panettone this upcoming holiday season. Whether you want to try an Italian original or venture out into the Spanish twist, we've got you covered!
Spanish Panetón by Pancracio
Spanish panetón (pan-eh-ton) has been becoming a popular pastry around the holiday season as well. Companies in Spain, like Pancracio, have used the original recipe and added cacao to it.
Pancracio's mission statement is to make chocolate into a unique and unforgettable experience. With the perfect blend of wheat, butter, and organic dark chocolate, Pancracio has released a limited edition panetón exclusive to TerraMar Imports.
The dark chocolate panettone production is controlled by Pancracio every step of the way from the selection of cacao from exclusive farms to the artisan process and procurement resulting in the highest quality panettone.
Italian Panettone by Melegatti
Being a unique product since the first noted celebration, Italy holds the panettone as a source of national pride.
Since 2005, Italian law has made it subject to a formal authentication process to ensure the right ingredients and techniques have been followed. Melegatti has been making panettones since 1894 ensuring their traditional line of panettones uphold the Italian law.
In order to be labeled as such, a native panettone must be composed of no less than 20% candied fruit, 16% butter, and eggs that are at least 4% yolk, which showcases the level of detail extended to each panettone from Melegatti. If you're looking to try a traditional Milanese panettone, look no further and enjoy one of the perfected recipes by chef Domenico Melegatti.
In addition to the traditional panettone, Melegatti has released a variation of fresh flavors ideal for a full spread of desserts for your holiday gathering!
From coconut flavored flour to glazed with milk chocolate, the array of panettones are sure to be the talk of the party.
Order your Panettone & Pandoro
Try out the panettone this holiday season and let us know which one is your favorite! Please be aware that the panettones are made once a year! Because of limited availability, orders will be fulfilled on a first-come, first-serve basis.
For any additional questions, please contact us at admin@terramarimports.com.