posted by TerraMar Imports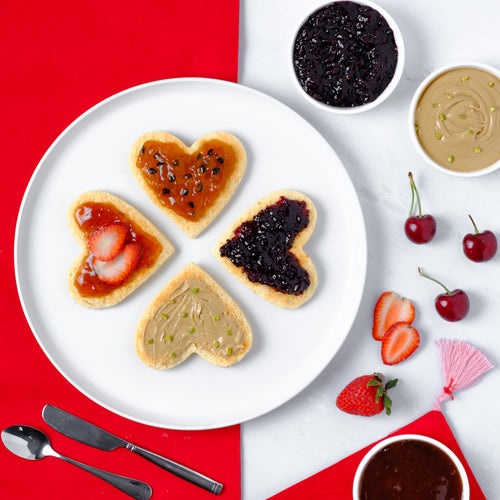 By Hunter Steffek
Introduction
TerraMar has put together plenty of bundles and recipes to create gourmet quality meals for your partner all from your home. These gourmet meals and bundles are curated by TerraMar with breakfast, lunch, and dinner in mind, and delivered straight to your door. All so you can take the stress of cooking and calling restaurants and spend more time with your special person. 
Breakfast in Bed 
Breakfast is the most important meal of the day. Start the special day off right by using spreads from our amazing Valentine's Day Romantic Breakfast Box! This curated bundle by TerraMar is the perfect way to show your appreciation and love to your partner. It includes decadent ingredients to create a breakfast to never forget. This recipe will help you create an amazing stack of delicious pancakes topped with either a creamy pistachio spread, blackberry jam, or one of our other two flavors below!
Included within the Breakfast in Bed Bundle: 
Recipe 
This breakfast in bed recipe captures the essence of a staple American breakfast with the opportunity to use 4 different pancake spreads! To add to this recipe we recommend the addition of some breakfast meats (bacon or sausage) and some eggs to round the dish out! 
Pancakes 
In a mixing bowl, pour the contents of your pancake mix, then one cup of milk while whisking. 

Add 2 tablespoons of oil (vegetable) and mix thoroughly. 

Heat a nonstick pan to medium heat and grease it lightly. Pour mixed dough contents in an even diameter. Note – The thicker your pour the pancake on the longer it will cook.

For Valentine's Day try using a

steel

heart cookie cutter to create little valentine's pancakes! 

After the pancake is browned on each side, move to a plate for stacking! 
Finish this tall stack of pancakes with our delicious Pistachio spread or a jam of your choice for maximum enjoyment of sweet Italian flavors. The Passion fruit and Alphonso Mango Jam could be a great compliment to the dish by adding a fresh and flavorful aroma and taste to the plate; while the strawberry and black berry jams provide the berry flavors beloved by breakfast enthusiasts.
Couple this with some eggs and bacon and your sweetheart will have a classic diner breakfast from the comfort of their bed. For the eggs make them however you prefer, but for a valentine's twist utilize a steel heart cookie cutter again to shape your eggs in a heart! 
Check out our full Valentine's Day Gifts selection to ensure you have everything covered for you and your loved one's perfect day!