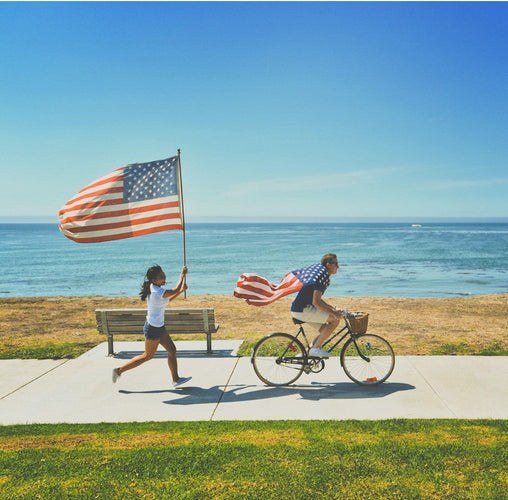 June 29, 2021 | By Ernesto M. Becerra
Happy Independence Day, America!
While everyone enjoys fireworks and family time, it usually comes down to the home cooked meal that makes for a variant as to how families are celebrating 4th of July.
Known as the cultural melting pot, the United States celebrates Independence Day with its usual fanfare of hot dogs and buns by most families, but did you know that's not the case for all families in America?
Over the years, communities have intertwined with one another creating fusion cuisine where they combine elements from more than on culinary traditions suitable for their families. Learn more as we dive into the different ways to diversify your next 4th of July!
Hot Dogs with a Twist
Hot dogs are the staple American cuisine for 4th of July cookouts
! These delicacies have cemented their way into US celebrations as they are easy to make and can go with almost any condiment.
As hot dogs and burgers are typically made out of beef, some cultures, like Hindus, are prohibited from eating beef; however, this does not set them back from finding alternatives! By substituting the beef sausage with chicken mixed with chutneys, families are able to join the celebration and add their own twist to the frankfurter.
Chutneys are typically spicy (or savory, depending on your tolerance) condiments originally from India. While everyone has their favorite condiment, we recommend trying the mango chutney, as the ripe mango flavor with dried red chilies make the perfect explosion in your mouth.
No hot dog buns? No problem!
Korean-Americans have perfected the way of the corn dog by adding a layer of cheesiness to every bite! Myungrang (명랑 핫도그), otherwise known as Korean hot dogs, are sweet and savory all-beef hot dogs covered in a crispy fried batter with mozzarella on a stick.
Depending on who is eating them, they are typically dusted with a sprinkle of sugar and topped with your favorite condiment: mustard, mayo, ketchup, or all three! 
Fusion Burgers
One can never go wrong with celebrating Independence Day with an all-beef patty between two crispy buns!
If you're looking to indulge your palate with a different seasoning, try a Malaysian seasoning sprinkled into your burger! With a combination of curry powder, coriander, cumin, garam masala, and other seasonings, this burger is elaborate and combines the ideal flavors of the turmeric-containing curry that helps squeeze out the juices of the patty allowing you to enjoy the juicy, show-stopping burger.
Additionally, Hainanese chilli sauce for chicken rice makes for the ideal condiment to the bun due to its savory content and slight kick bringing the authentic flavors of the village to your home.
If you're not a fan of beef, try Mexican-fusion burgers!
Otherwise, known as a spin-off of the Mexi-burger, this savory sandwich is made out of grilled pork chops topped with grilled onions, chargrilled poblano peppers, grilled jalapeños, and fresh avocado slices. Because of the many ingredients added to the burger, it is recommended to add only mayo or butter on the buns.
However, that does not mean you cannot add your own spin to it!
The Tex-Orleans Way
A summer cookout in the United States cannot exclude a seafood boil! Generally, seafood boils consist of lobsters, littleneck clams, mussels, crab legs, and more.
Because of its low-cost and ease of cooking, crawfish has slowly become a cuisine that has been molded by different styles. Crawfish season runs from January through July making 4th of July the last stretch to get your hands on this delicacy!
Which way do you prefer your crawfish: the Texas way or the Louisiana way?
The Texas way consists of boiling crawfish in a pot of water filled with spices, lemons, onions, and garlic then tossed in the spicy, savory cajun paste.
The Louisiana way is similar to the Texas way with the additional step of dusting the crawfish with fine garlic and other spices.
Did you know about the Viet-Cajun way?
Thanks to migrant populations from Vietnam and Louisiana, we have the Viet-Cajun boil, fresh mudbugs tossed with butter, garlic, chilies, Southeast Asian aromatics, and TONS of garlic.
While the Slap Ya Mama cajun spice and the lemongrass herbs are the core in the spice mixture, the minced garlic (accompanied by the other Asian chilies) make it a prominent dish for those seeking a wild ride of flavors.
Paella from Valencia, Spain
Whether you like seafood or other meats, you can always please yourself with the Valencian paella!
The paella is one of the best-known dishes in Spanish cuisine. Originally from Valencia, Spain, paella was made as a lunchtime meal for farmers and farm laborers.
As living standards rose in the late 19th century, the change of lifestyle led to a rise in gatherings and outings in the countryside, cementing the paella as a staple in social mixers and celebrations. While more and more paella variants are upcoming, the traditional paella of the Valencian region consists of round grain rice, peas, rabbit, chicken, and saffron.
However, it's not only the ingredients that make the paella!
"Paella" is a Valencian word derived from the Latin term for "pan." Paella pans are wide and shallow to create maximum surface area, allowing liquid to evaporate and to form as much crispy golden crust, known as socarrat, on the bottom as possible.
If you're interested in venturing out your cooking, read our blog on which paella is best for you!
For the Meat Lovers
Last but not least, classic steaks ready for the grill for the meat lovers! From tenderloin to brisket, everybody has their favorite, but which ones should you be grilling?
For the perfect combination of a tender muscle with a well-marbled character, look for tenderloin (also known as filet mignon), tomahawk ribeye, or t-bone. The marbling (the white specks of fat in the steak) will melt into the steak as it cooks, resulting in a juicy, tender steak with incredible beef flavor.
Traditionally, these steaks get the best flavor from a dry mixture of seasonings such as garlic powder, oregano, cumin, coriander, thyme and salt. For those seeking a Japanese-authentic experience, look no further and try the sake marinated ribeye steak.
Because beef lends itself to all types of marinades, combining sake, shoyu, sugar, Worcestershire, oils, pepper flakes, and garlic adds sweet overtones to grilled steak just by marinating it overnight.
The sake-based sauce will enhance the flavors of the steak as you indulge every bite of the juices.
As international cuisine continues to expand, TerraMar Imports will continue to share our passion for authentic food, one shipment at a time.
Let Freedom (and Flavor) Ring!