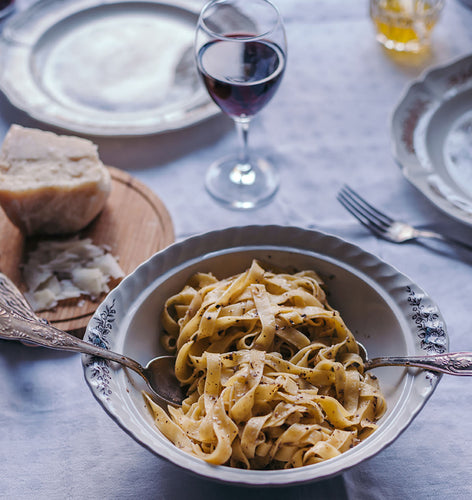 June 22, 2021 | By Ernesto M. Becerra
Pasta is by far the most dynamic dish that one can make: it can vary from your comfort food after a long morning or a more intimate dinner accompanied by your favorite wine with your loved ones. Today, we will go through a simple but flavorful recipe for a tagliatelle pasta with black truffle sauce and an optional layer of flavor with porcini mushrooms for those who love to enrich their meals (and ideal for our vegetarian friends).
When are Porcini mushrooms ideal?
As this year's spring season was filled with showers and humidity, summer calls for the perfect mushroom season, specifically porcini mushrooms!
Porcini mushrooms are brown-capped mushrooms with thick, white stalks. Porcini mushrooms, similar to other types of mushrooms, begin to be sighted in early June and can go through November depending on how well the season is doing depending on humidity levels and rain.
However, porcini mushrooms are becoming more and more rare to find despite how well the climate is favoring them, which is why they have become a delicious yet prized treat in the Italian and French cuisine. These popular mushrooms naturally grow in pine forests at the base of the trees, similar to other fungi, and are later picked to harvest.
Porcini mushrooms grow with the ideal combination of natural and earthy flavors perfect for sautéed dishes or mixed in a broth; however, fresh mushrooms come at a price between $30-60 per pound while dried mushrooms come at a quarter of that price.
Filled with high protein, vitamin A, and vitamin C, the nutritious porcini mushroom truly calls for an experience that will take you to the hills of Italy when accompanied by a tagliatelle pasta.
Why is tagliatelle pasta the superior type of pasta?
Originally from the Marche region in Italy, the tagliatelle is a type of pasta handmade with eggs typical of Italian cuisine, but has spread through the peninsula. It owes its name to the "cut" that is made on the puff pastry, resembling the shape of lasagna sheets. However, the tagliatelle shares a bit of history and a romantic tale all at once!
The common tale reads that this type of pasta is honoring the love story of Lucrezia Borgia, bride-to-be to Duke Alfonso D'Este Bentivoglio, whose hair matches the long, golden strips of the bride's legendary blonde hair.
Known for its ribbon-shape similar to fettuccine perfect for thick sauces, the tagliatelle pasta is consistently between 6 to 8 mm wide, which is matching the thickness of the legendary golden locks of Lucrezia.
While the tagliatelle is commonly enjoyed with meat sauce or Bolognese ragu, this tasty pasta goes perfectly paired with a black truffle sauce as a substitute to those who prefer a little side of earthy tones and aromas that will take you to Umbria, Italy. 
What is a black truffle and what does this gourmet secret taste like? 
Consumed as a delicacy throughout history, truffles have been revered for their flavor, rarity, and aphrodisiac properties.
Many of the world's truffles are found in Italy, France and elsewhere in Europe, but they have made their way around the world as gourmet chefs continue to explore new flavors and add those to their daily cuisine.
Just like mushrooms, truffles grow beneath the soil near oak, haze, and cherry trees, which is why hunting for wild mushrooms can be a double treat for those in luck! French gourmand Jean Anthelme Brillat-Savarin dubbed truffles "the diamond of the kitchen'' as they are precious and extremely costly, ranging from your common mixture of $20 up to $3,000 per pound.
Like so many gourmet products, truffles are honored by their sticker price due to the limited supply and labor required to harvest them, with only specific soils and trees allowing them to grow.
Despite its size, truffles will dominate any dish with their rich flavor, which is why it is the ideal addition to the tagliatelle and mushroom pasta. In this perfect combination, the buttery and earthy flavors of this mixture soaked in sauce make every bite an unforgettable experience.
INGREDIENTS
INSTRUCTIONS
Optional: If you decide to add porcini mushrooms, follow these steps!
For dehydrated porcini mushrooms — rehydrate your dried porcini mushrooms by soaking in lukewarm water for about 20-30 minutes before beginning to cook your pasta. Save some of the water for step 3!
For fresh porcini mushrooms — wash the mushrooms for about 2-3 minutes in lukewarm water. Once they are ready, dry the mushrooms with a cloth or paper towel to remove any excess moisture, then mince them to bite size amounts of about 1 inch. They're ready for step 3!
Step 1
Boil water in a large pot and add a pinch of salt (or to taste).
Step 2
When the salted water starts boiling, add the tagliatelle pasta and cook for about 3-5 minutes, or follow the instructions on the packaging if you believe it will need more time. Once the allocated time has passed, drain the pasta and let sit on the side (remember to save some of the pasta water for your sauce mixture).
Step 3
In a larger saucepan, melt the tbsp of butter. Once it is fully melted, add the black truffle sauce, 2 tbsp of pasta water, and stir until it's properly mixed. 
Optional:
If you saved water from rehydrating the mushrooms, add 2 tbsp of the porcini water or add the fresh minced mushrooms to the pan and stir until it's properly mixed.
Step 4
Remove the saucepan from the heat and add drained pasta to the saucepan.
With clamps, you can rotate the pasta to get everything mixed in well. add grated Parmesan cheese as desired as you're mixing. For serving, drizzle with a bit of extra-virgin olive oil and serve warm with some shaved Parmesan on top.
Buon appetito!