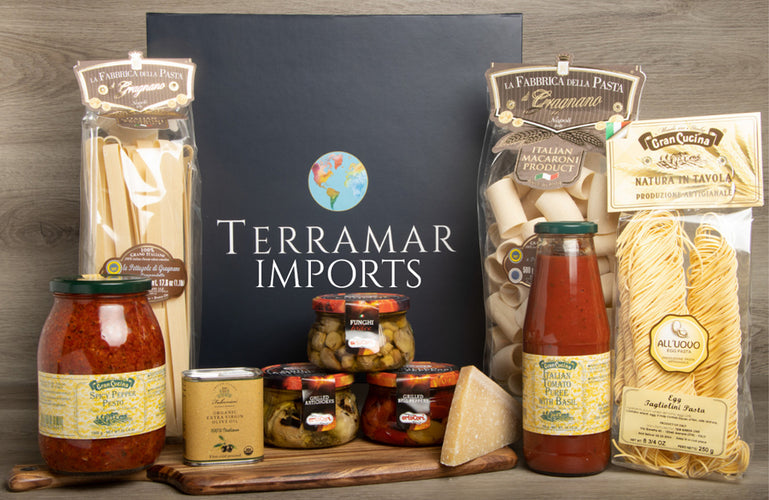 The Cucina Tradizionale box will allow you to experience a curated selection of the finest artisan crafted pasta cuts paired with our favorite variety of sauces.
From hand-picked tomatoes to the fresh grilled peppers, this authentic Italian box will transform your pantry into a chef's culinary dream. Our team of culinary experts have curated products, prepared the recipes, and adjusted the steps to provide you with the best-tasting Italian cuisine. While this set of recipes are made for the ingredients in the Cucina Tradizionale box, please feel free to add your own twist making your own signature dish!
View the Box
Jump to one of the three traditional recipes and let's get cooking!
Creamy Mushroom Tagliolini
Spicy Red Pepper Paccheri Pasta
Tomato Pappardelle with Basil
Creamy Mushroom Tagliolini
Are you ready to mesmerize your guests?! Our creamy mushroom egg tagliolini is sure to impress anyone who dares to try it!


Ingredients
1 pack Egg Tagliolini
2 oz. butter
1 garlic clove
1 cup of mushrooms
5 oz. grated Parmigiano Reggiano
2 tbsp. salt and extra for seasoning
½ teaspoon pepper
4 tbsp. of extra virgin olive oil
½ glass white wine, a sauvignon blanc will do the trick (optional)


Step 1:

 In a pot, boil water and add two tablespoons of salt. Cook pasta for 5-7 minutes. Drain and set it aside.

Step 2:

In a separate pan, add 2 tbsp of olive oil to melt the butter and add the minced garlic and mushrooms. If you have a glass of white wine available, add it to the mixture and cook for 8 min.

Step 3:

Pour the sauce over the pasta and add in 3 oz of the parmigiano reggiano.

Step 4:

Serve and garnish with olive oil, more parmigiano reggiano, and parsley if desired.
Spicy Red Pepper Paccheri Pasta
Enjoy this savory pasta within minutes! The spicy pesto will definitely awaken your palate!
Ingredients:
Paccheri pasta
Spicy pepper pesto
Extra-virgin olive oil
Salt and pepper
Garlic, minced
Parmigiano cheese, grated (recommended)
Step 1:

Bring 5 quarts of water to a rolling boil, add a dash of salt to boiling water and add the paccheri pasta to boiling water. Cook for 12 minutes, stirring gently occasionally. For more tender pasta, boil for an additional minute. Remove from heat and drain well. 

CHEF'S TIP: Add a spoonful of butter to cooking pasta for additional flavor!

Step 2:

On a separate skillet, add 2 tbsp of Extra Virgin Olive Oil and bring it to a medium heat. Add ½ - ¾ of the spicy pepper pesto sauce, depending how saucy and spicy you like your pasta. Mix and let it heat for about 8 minutes. 

Step 3:

Pour the pesto sauce over the paccheri pasta, cheese, salt and pepper to taste, and toss until the pasta is properly mixed.

Step 4:

Serve warm and sprinkle some extra virgin olive oil as a dressing and sprinkle desired amount of cheese. To impress your guests, serve with crusty Italian bread, grilled bell peppers as an appetizer, and a dry red wine!
Tomato Pappardelle with Basil
Smell the Italian aromas at the comfort of your home with the tomato pappardelle pasta! This truly authentic Italian dish will give your tastebuds a dinner with all the Italian classics.
Ingredients
1 package Pappardelle pasta
Tomato pulp with basil
2-3 tablespoons extra virgin olive oil
2-3 fresh garlic cloves minced
Salt and pepper
Freshly grated Parmigiano-Reggiano
Optional: Basil for extra flavor
Step 1:

Boil pasta in 4-6 cups of salted water. Cook for about 12 min or according to package instructions to al dente. Drain, rinse and set aside.

Step 2:

Using a large pan, heat the olive oil over medium-high heat. After a minute or so, add the garlic. Cook for about a minute or two.

Step 3:

Add the tomato sauce to the olive oil and season with salt and pepper to taste.

Step 4:

Add the pasta and mix to coat the pasta noodles with the sauce for about 2 minutes. 

Optional: 

If you are using fresh basil, add in the basil and gently mix everything up for about a minute.

Step 5: 

Serve with freshly grated Parmigiano-Reggiano and enjoy!
We'd love to hear how your recipes turned out or what special ingredient you added to make it your signature dish. Please let us know in the comments below!