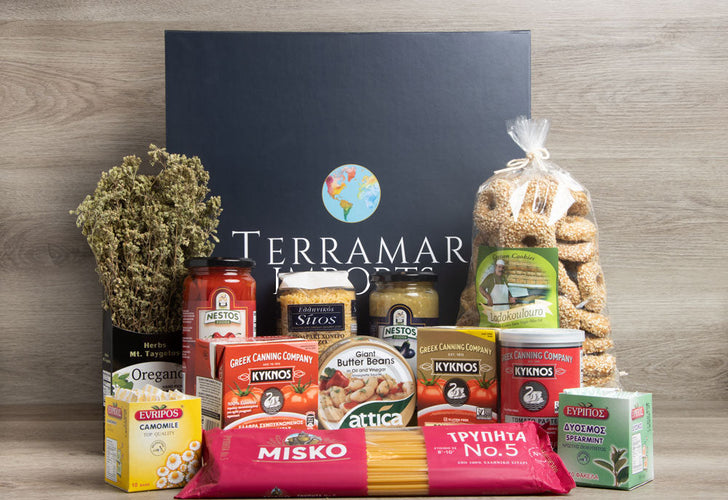 August 18, 2021 | By Ernesto M. Becerra
Enter the ethereal realm of Mt. Olympus through the Greek Mythology Boxes. TerraMar Imports has carefully selected authentic Greek ambrosia, otherwise known as the food of the gods in Greek mythology. With an assortment of ingredients and ready-to-eat snacks, these boxes will allow you to explore the culinary world of Greece.
Each box includes a curated array of imported Greek elements that pair well together and give you creative liberty to add your own signature to dishes. Whether you'd like to make a feast for one night or wish to have a traditional Greek pantry, these ingredients will elevate your cooking and bring a celestial experience into your home.
Learn about the inspiration behind each box below:
Athena's Acropolis Box
Athena's box provides an immaculate lineup of high quality herbs from Mt. Taygetos, 100% durum wheat pasta, and premium olive oil in honor of Athena's olive tree gift. This harmonious box symbolizes wisdom and abundance through the various array of recipes that can be created and snacks that can be consumed as is.
The authentic Greek box can be a spread to be shared with your loved ones or a series of meals for yourself. Pair it with your favorite assyrtiko (traditional Greek wine) for a perfect balance.

The beautiful box presentation creates a wonderful gift set as a formal thank you, care package, or a generous gift for yourself from the Greek Gods.
Recommended Pairings:
A hearty Greek Pastitsio with Béchamel, basil, and a healthy spread of green beans
An appetizer mix including green beans in tomato sauce, butter beans, and roasted eggplant in oil — perfect to be spread on toast or bruschetta
Fiogaki (bowtie) pasta alla vodka with cherry tomatoes and mozzarella cheese
Demeter's Harvest Box
From the Goddess of Agriculture herself, Demeter's Harvest Box gives you artisanal orzo pasta, olive oil rusks, and highly aromatic oregano bunches straight from Greece. Adorned with fresh ingredients and bright flavors, this box brings pasta derived meals or one large feast to entertain your next big gathering.
This authentic Greek assortment is the ideal combination of ingredients for your traditional dishes or as you seek to elevate your culinary experience through original Mediterranean flavors.
The adorned box and serving size create a wonderful gift set to be shared with your loved one, as a housewarming gift, or as your own personal Greek harvest.
Recommended Pairings:
Greek orzo salad with giant butter beans accompanied by a light tea for digestion
Rye rusks biscuits with a savory black olive spread
Trio Kyknos sauces combined with oregano for a sauce paired with Misko No. 5
The original Greek Baba Ganoush
Roasted red peppers with salt as a light appetizer
We hope you are as excited as we are about our new boxes! Below are some of the questions we have anticipated:
When can I start ordering?
The Greek boxes will be available for online ordering beginning August 24th, 2021.
What will my box include?
The exact contents of your Greek box will vary depending on which assortment is selected. Our two starter assortments will have enough servings to accommodate at least four individuals. No matter the box, it will be filled with authentic Greek staples and an abundance of deliciousness.
Will I need more ingredients?
You may need other ingredients depending on your diet and meal. Our new Greek boxes will deliver the most authentic ingredients that are the core necessities for your recipe, so we put it all together to get you started. The remaining ingredients you may need vary from meats, vegetables, and other basic household items that you should already have in your pantry!
Will there be new boxes soon?
Yes! Our team is sourcing and pairing new products each week, but we want to ensure you'll be receiving only the highest quality ingredients to elevate your next meal. Stay tuned on the release of new international boxes!
Don't see your question? Please contact admin@terramarimports.com.