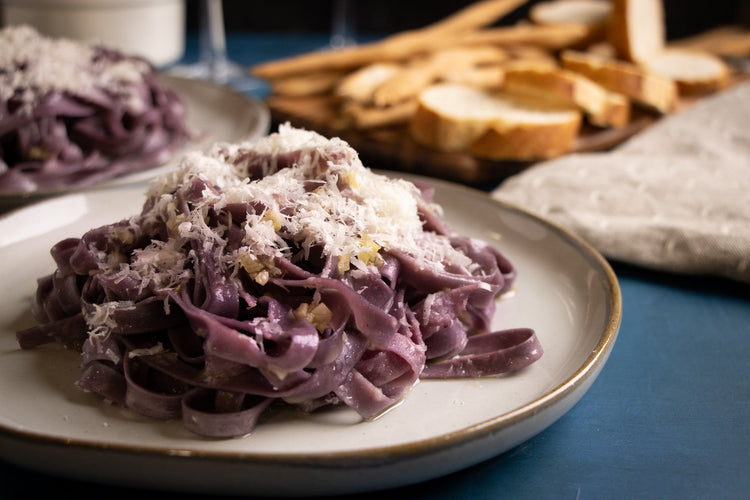 Aglio e Olio Tagliatelle
Experience a delicious extra virgin olive oil from Umbria, artisan crafted pasta, and rosemary breadsticks that all create the setting of an ideal romantic getaway in this aglio e olio tagliatelle pasta! While this recipe is curated for the Dinner for Two box, please feel free to recreate this dish with your own signature cooking.
INGREDIENTS:
Parmigiano cheese, grated (recommended)
Garlic, minced
Extra-virgin olive oil
Salt and pepper
Tagliatelle pasta
New Column
New Column

Step 1:

Boil tagliatelle pasta in 4 - 6 quarts of water to a rolling boil, add salt to taste. Stir gently for 12 minutes for al dente pasta. For more tender pasta, boil for an additional minute. Remove from heat, drain, and set aside.
CHEF'S TIP: Add a spoonful of butter to cooking pasta for additional flavor! Save a ¼ cup of the pasta water to dilute your olive oil!

Step 2:

On a separate skillet, lather a small pan with extra virgin olive oil and bring it to a medium heat. Roast the minced garlic for about 2 minutes. Mix and remove from heat.

Step 3:

Add pasta into oil mixture and toss until fully coated. If you want to dilute your sauce, add pasta water.

Step 4:

Add grated cheese to your liking and toss once more before serving.

Step 5:

Serve warm and sprinkle some extra virgin olive oil as a dressing and sprinkle desired amount of cheese. To impress your date, serve with artichoke and truffle bruschetta spread over the rosemary grissini, a leafy green salad, and a sauvignon blanc!
 Buon appetito!
Please let us know your feedback in the comments below! We'd love to hear how your recipes turned out or what special ingredient you added to make it your signature dish.